By Priyata Singh
24 Dec, 2015, Thursday
A long weekend and people start their brain-storming sessions what all we can do by clubbing one leave here and one leave there. And we are so normal couple that we also did the same. We thought of travelling with our newly turned 6 months old a road trip. Wooh such a YO couple we are…just stop there…. not so cool…the distance was just 130 kms!!!!!- To this a Mumbaikar or a Delhite will laugh out loud because may be few kms less or equal or may be more they must be doing such road trips daily to reach office and come back home. But we are in Hyderabad and we have this privilege of calling 130 kms travel a Road Trip.
Anyway, our journey started on Dec 24, 2015 around 1:15 p.m. and with everything stacked (baby's pram, Lactogen, Cerelac, Water bottle, feeding bottles and so me rocking 90's music in the pen drive) we pushed off…I would suggest that one should keep planning such short trips as it keeps you motivated and definitely it enriches your experience. As this was our first so called road trip with Veer so got to learn so many things which I am sure we will never experience again 🙂 Because experience also has a rule that it never serves you the same situations again.
With music, fun, and our man & woman taunts and various happy moments we pushed off. Sanjeev kept his hand pretty steady on the gear and stopped only at our mid-way destination Mahindra Paradise, Zaheerabad, which was everything but not a Paradise certainly. A small resort in the middle of nowhere and 40 kms before Bidar.
As it was the first road trip (hahaha..road trip..whatever it was) so it was a good decision to stop there and rest a bit. Already a wedding was taking place so we could listen to some foot tapping Telugu music and the nineties Hindi music was giving guest appearance too…I don't know how they knew a couple whose teens were in full gear in the 90s is residing on a floor above…Anyway after a short power nap, we moved for our evening galore and that  turned out to be utter flop….we could just go 10 kms away from our paradise as it was single lane and we didn't want it to be a risky affair. We had our simple dinner at a dhaba and all set to sleep…but tdaaaa….Veer did not let us..yes Sanjeev and I had a difficult time putting him off to bed. The boy made sure to drain all our leftover energy and then go off to sleep.
25 Dec, 2015, Friday
And we were ready for Bidar. After our light breakfast we started moving towards Bidar. Almost an hour long drive from Zaheerabad and after travelling through the fields of paddy and some great natural sceneries we reached Bidar. One most important thing I forgot to mention..the most adventurous thing of the trip was we did not book a hotel..so for more than an hour we struggled to find the right hotel. As Bidar is a very small city so it has just few hotels and the marriage season was ON so the chances of availability of rooms were murky. But lucky us! We got the accommodation for a day at Hotel Shiva International.
So let me brief you about Bidar a bit. I know we have Google to do this job but if you will read this you will see Bidar through my eyes whereas Google will only tell you the place in a Set format…Demographics, Population, Climate…and Blah Blah Blah.
About Bidar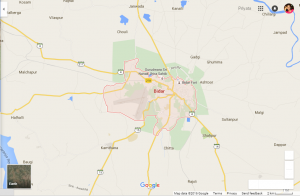 So here is Bidar, the moment you enter the city the calmness and peacefulness of the city will embrace you. It is a small town in the state of Karnataka. The famous song of the famous picture "The Dirty Picture" "Mera Ishq Sufiana" is shot at the Bidar Fort, which is one the main attractions of the city. Well I know less people would know this fact but Bidar is the second biggest Indian Air Force training center in the country. The IAF Station Bidar is used for advanced jet training of prospective fighter pilots on BAe Hawk aircraft.
In the evening we started for Bidar fort which was just 5 kms from our hotel. As all forts are, this one also left us mesmerized with its architecture. Somehow any historical monument I have visited I have always felt that they can talk to you or they have seen so much, probably they are the sole and quiet witness of the love, joys, battles, discussions and many more…If there was a power to question these walls so many truths of the molded history of the world can be discovered. But it is not possible.
After being into that era for some time we headed for Gurudwara Sri Nanak Jhira Sahib. Again a peaceful, well maintained religious place where you can spend hours but we could not as Veer woke up from his long 2 hrs sleep. So we had to head back to our hotel. Though after sometime we tried to discover the small city and only ended up discovering that this city is too small to discover. 🙂 As night was pretty cold so we decided to be indoors and chat. And we did exactly same what we decided. After our dinner in our room the family of three went off to sleep.
26 Dec, 2015, Saturday
The hotel guy was courteous enough to extend our timings without any extra charge as he saw a kid with us. I must say these kids are so helpful many times. If Sanjeev and I would have been there he would have asked to vacate it at the right time but Veer helped us and allowed us to sleep on those double cushioned mattresses for some more time. Around 10:30 A.M. we started back for Hyderabad and by 3:00 P.M. we reached home after our really really short road trip with some great memories. Most of the time we slip into our home a day before a holiday so that we can get back to our normal routine and then join our offices and believe me this really work wonders. You go to your work absolutely afresh and don't have those early morning blues and still in that holiday mode. Try this from the next time onward.